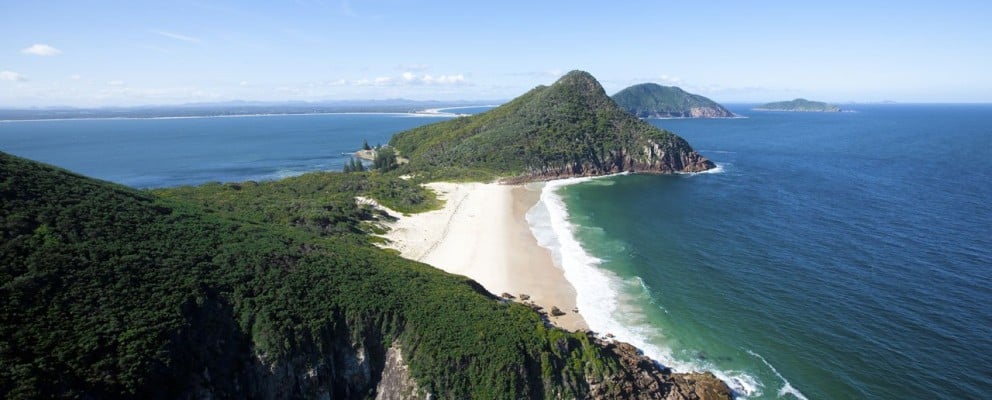 Port Stephens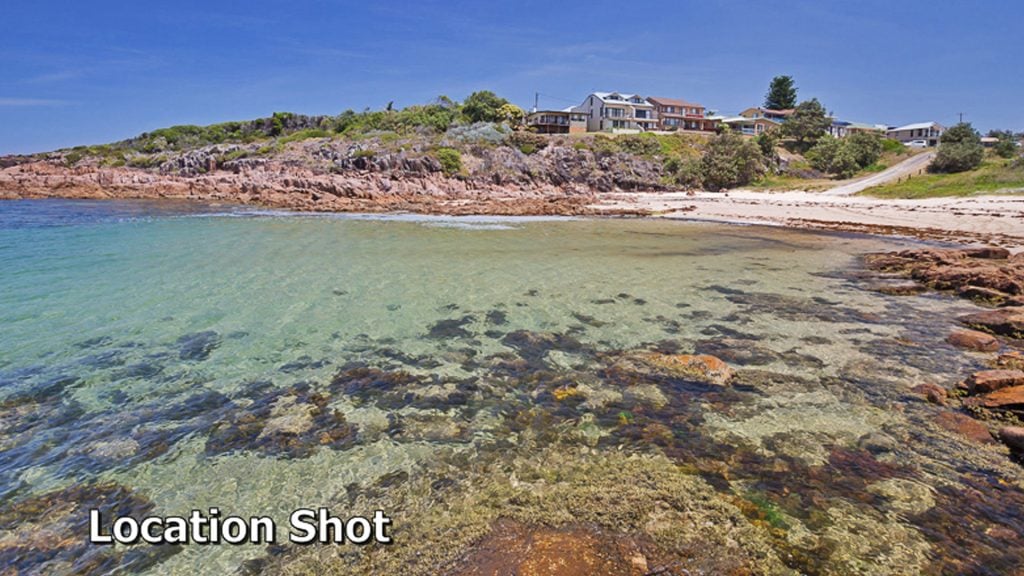 Port Stephens is arguably the most family friendly holiday destination in New South Wales. Located two and a half hours North of Sydney, Port Stephens offers a wide variety of holiday accommodation options to suit all budgets.
Port Stephen's itself is a waterway roughly two and a half times the size of Sydney harbour with numerous offshore islands and fishing grounds.
Port Stephens is quite simply a boaties dream with miles and miles of waterways, good access for trailer boats and plenty of marina's for the larger boats and supplies.
Nelson Bay
The heart of Port Stephens is undoubtedly Nelson Bay. Nelson Bay has always been an incredibly popular holiday destination for families and offers a wide range of houses, duplexes, townhouses and units available for holiday accommodation.
Nelson Bay CBD offers a range of restaurants, cafes and numerous shops to keep the shop-a-holic busy as well as an incredibly popular golf course, bowling club, Wests Diggers club and world class marina complex with its own collection of shops and restaurants.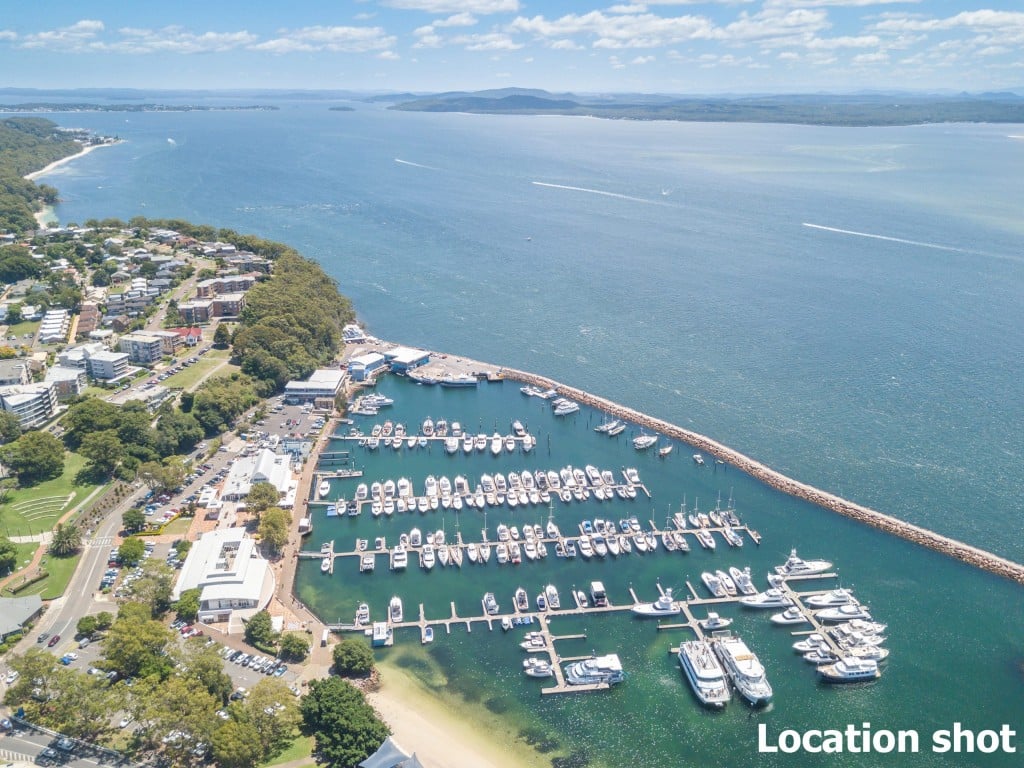 Shoal Bay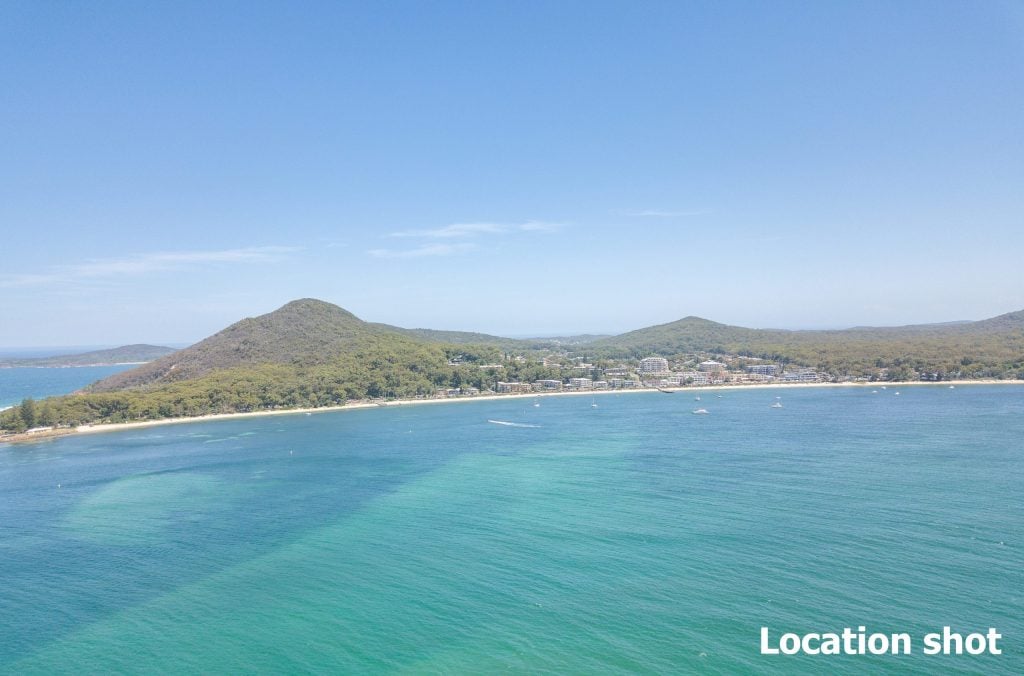 Shoal Bay is perhaps the ideal holiday spot for those that want to lie on the gorgeous beach all day and party all night at either the Country Club or Wests Diggers Club (both within walking distance). Shoal Bay offers a variety of accommodation choices to suit all budgets.
Surf beaches can be found at the Eastern side of Shoal Bay accessed via Tomaree National Park and the walking trail up Tomaree headland is also very popular with the more energetic tourists.
Fingal Bay
A quiet little suburb throughout most of the year, Fingal Bay comes alive in summer with the onslaught of tourist season. Little wonder too, Fingal Bay has an incredibly popular beach offering protected areas ideal for small children yet just further along the beach are some out of the way board riding spots very well known amongst locals.
Fingal Bay beach is patrolled by volunteer lifeguards (check at club house for patrol times) so is perhaps the ideal beach to suit all the family members (including the fishermen). Fingal Bay has a couple of shops just a block back from the beach offering take away food and general store items.
Fingal Bay offers predominantly duplexes and houses for holiday accommodation with a handful of small unit and townhouse blocks close to the beach.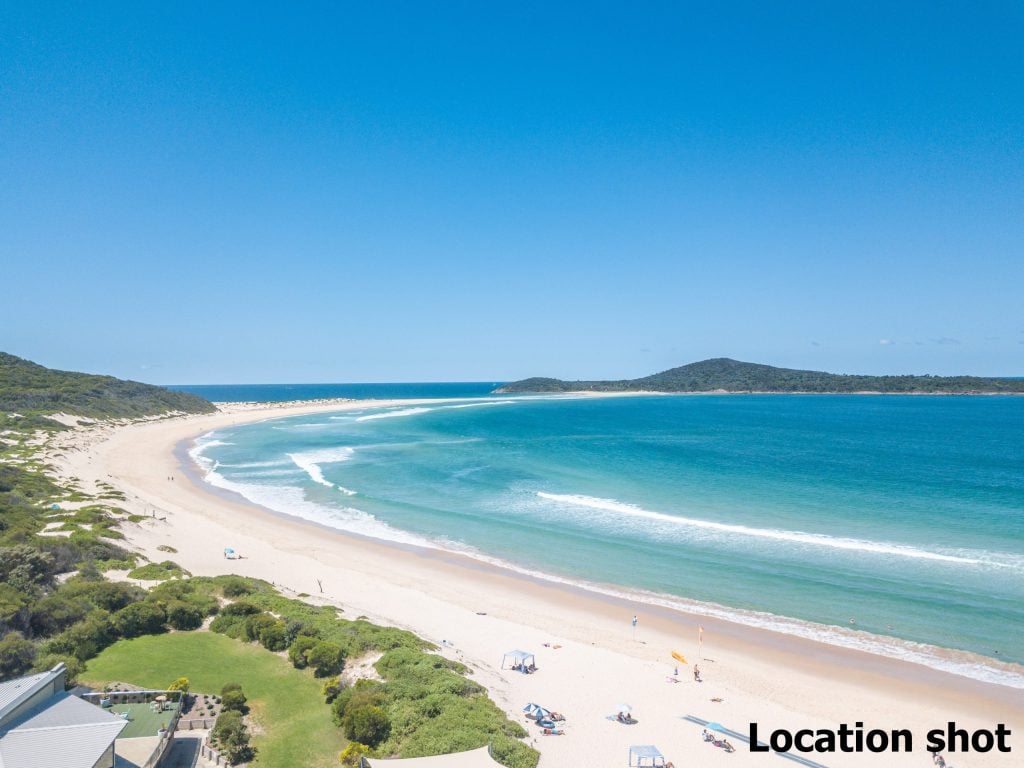 Corlette
Accommodation in Corlette features close proximity to the pristine sands of Bagnall Beach which is a pet friendly "off leash" beach and just 3 minute's drive to Nelson Bay or 2 minute's drive to Salamander shopping centre. Corlette is the ideal place for swimming, dolphin spotting or just simply relaxing with a coffee overlooking the boats at "The Anchorage".
Salamander Bay
Long stretches of sandy beaches with unsurpassed views are the theme for your accommodation at Salamander Bay. The safe beaches for children, boating and all aquatic pastimes are either right outside or very close to your accommodation. Shopping and restaurants are within close walking distance of most accommodation.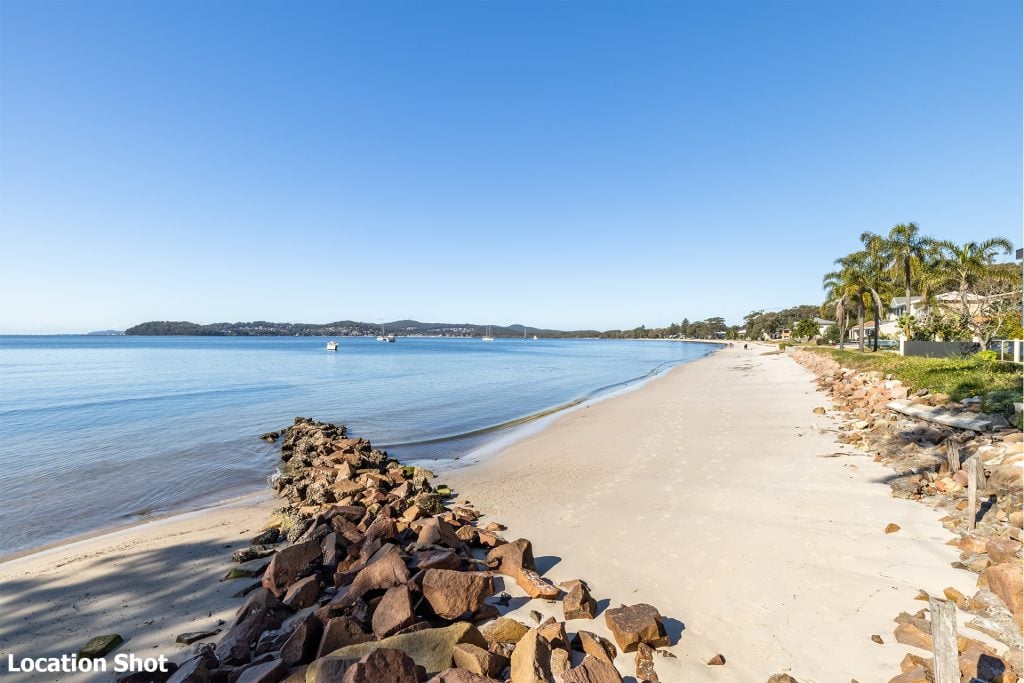 Soldiers Point
Located right on the end of the Tomaree Peninsula, Soldiers Point is an ideal spot for families seeking a beachside holiday without too much hustle and bustle. All holiday accommodation properties at Soldiers Point are either on or very close to the waterfront.
Anna Bay
Located roughly 10 minutes from Nelson Bay, Anna Bay gives access to Birubi beach as well as famous Stockton beach. Numerous shops are located at Anna Bay and properties close by the water are very popular holiday accommodation choices. For those with 4WD vehicles, Stockton beach is an experience not to be missed (permits are required and available at Anna Bay newsagency).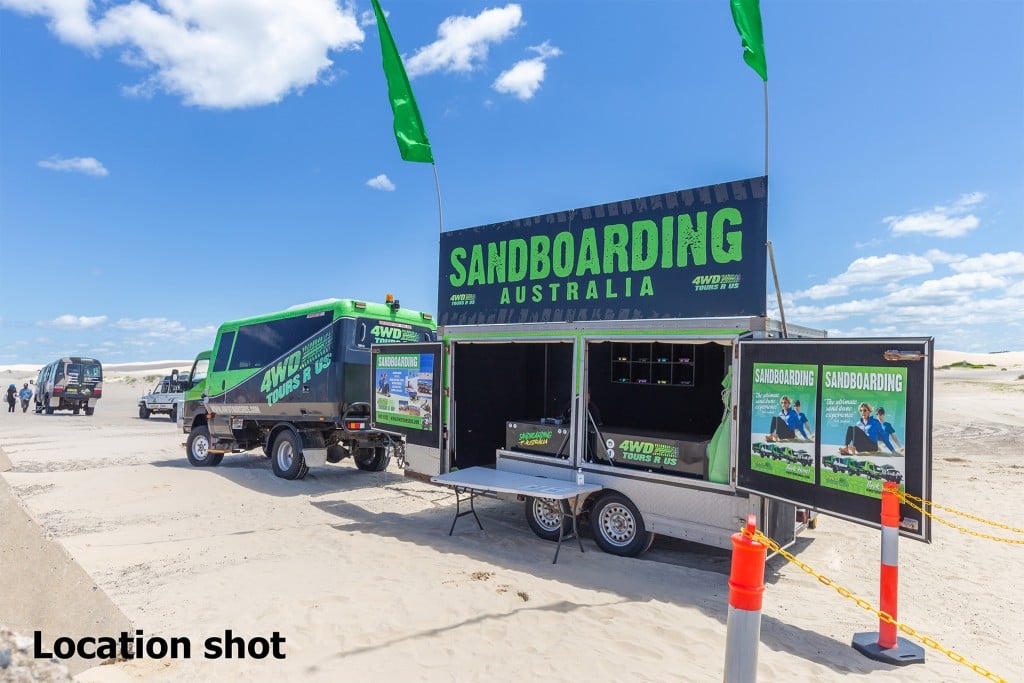 Boat Harbour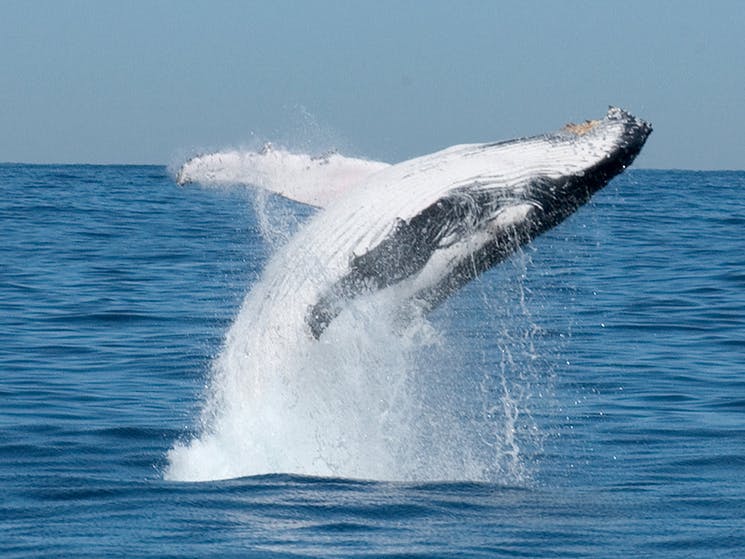 Virtually surrounded by National Park and ocean, Boat Harbour has become incredibly popular over the last few years. Boat Harbour has a small child friendly beach which also allows launching of small boats from the beach as well as access trails down to One Mile beach and Kingsley beach. Boat Harbour has tennis courts that can be hired, and is just a few minutes drive from Anna Bay and about 10 minutes from Nelson Bay.
Taylors Beach
Taylors Beach is a small coastal town located in Port Stephens on the Tomaree Peninsula with a population of around 120 people. The shoreline is dotted with tall pine trees and there is a public jetty which is ideal for fishing, boat ramp and BBQ and picnic facilities on the foreshore with public amenities including disabled toilets. You will feel like you are miles away from the hustle and bustle in this peaceful waterside town but still less than ten minutes' drive to Salamander Bay Square Shopping Centre, eight minutes' drive to restaurants and shops at Old Salamander Village or fourteen minutes' drive into Nelson Bay Town Centre.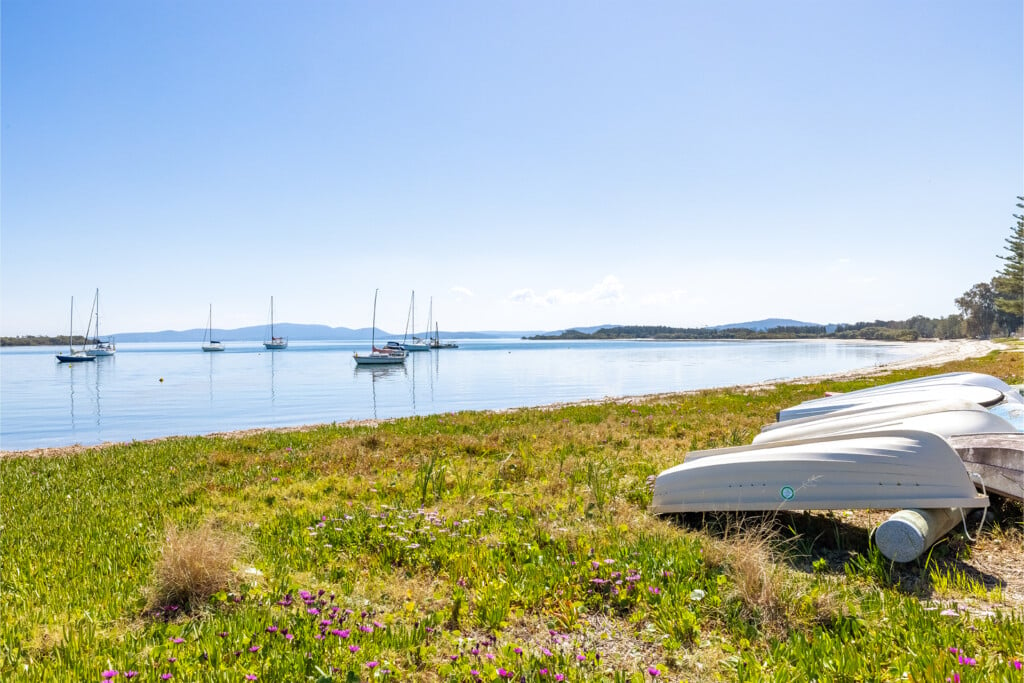 History of Port Stephens
The earliest inhabitants of Port Stephens were the Aborigines of the Worimi Tribe whom Charles Grimes referred to as a taller, stouter race of people than those about Sydney with a completely different language.

At the time of white settlement there were about 400 Aborigines living around the estuary of Port Stephens. The tribe had only 50 members in 1873. By 1900 there were very few tribal Aborigines left. White observers at that time left some descriptions of a lifestyle now mostly gone.

There are numerous Aboriginal relic sites in the area, the most obvious being the "Canoe Trees" at Little Beach. The exact location of the various sites is restricted information. In the area stretching from Wallis lakes to Newcastle there are 37 recorded Ceremonial Sites (stone arrangements, bora grounds, carved trees and burial sites), 115 recorded campsites (mia mia, scarred tree, open campsite, shelter with deposit, well, fish trap, abraded grooves and quarries) and 97 middens. Four middens and a burial site are located at the base of Yacaaba Head. Middens are located at Fingal Spit, Anna Bay, Schnapper Point, Boat Harbour, Skate Bay and Fishermans Bay. There is a burial site at Skate Bay and grinding grooves at Morna Point.
Port Stephens was first noted by Europeans in May 1770 when Captain James Cook referred to Port Stephens in his log as "an opening forming a bay". He went on to describe; "Wind southerly in the day and in the night westerly, a gentle breeze and clear weather. At 4pm past at a distance of one mile a low rocky point which I named Point Stephens… on the north side of this point is an inlet which I called Port Stephens that appears from the masthead to be sheltered from all winds".