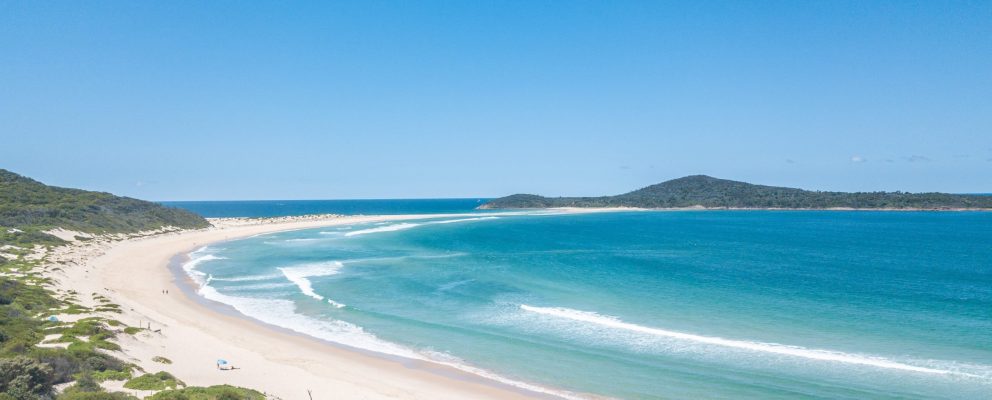 Fingal Bay Accommodation & Holiday Rentals
We have a large variety of Fingal Bay Accommodation properties to choose from, ranging from a romantic 1-bedroom unit to a large house to fit all the family and extended family.
Fingal Bay is an idyllic location for your next holiday with a fantastic choice of Fingal Bay Accommodation available. Fingal beach has beautiful soft white sand and is tucked under Fingal Head, it is a family-friendly, patrolled surf beach which is perfect to catch a wave, catch a fish, Stand Up Paddle Boarding or just catch the stunning sunrise on your early morning walk.
Fingal Spit is a sand spit that links the mainland to Fingal Island. The island is still accessible by boat and well worth taking a cruise which includes a fully guided nature walk visiting an Aboriginal fish trap lagoon, as well as Point Stephens Lighthouse and ruined caretakers' cottage. You can also do this tour by yourself and walk over the spit at low tide, but we recommend using extreme care when doing that as the tide does come up very quickly.
Fingal Bay offers cafes, Surf Club, Bowling Club and takeaway fish and chips shop and local IGA Supermarket. Fingal Bay is only 2hrs 30 mins north of Sydney and only 34km from Newcastle Airport. There are various transport options from the Airport to Fingal Bay including car rental, door to door shuttle service and public buses.