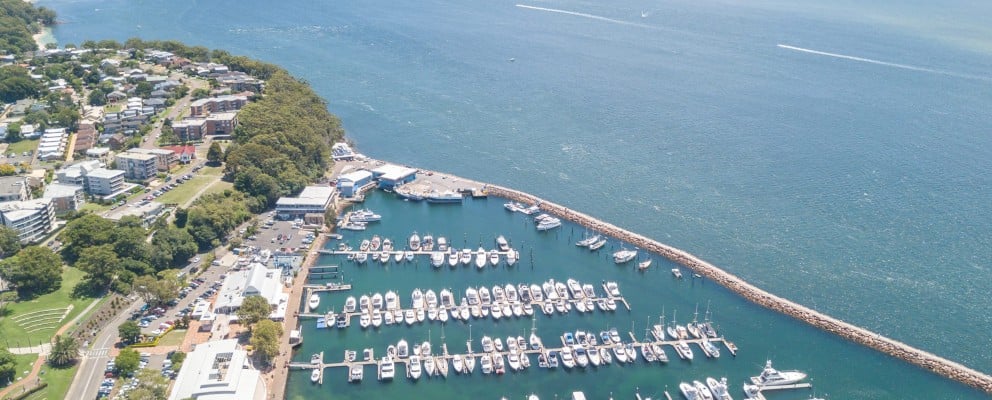 Nelson Bay Accommodation & Holiday Rentals
We have a huge variety of Nelson Bay Accommodation properties to choose from, ranging from a romantic 1-bedroom unit to a large house to fit all the family and extended family.
Nelson Bay is an idyllic location for your next holiday, look no further for the best Nelson Bay Accommodation on this website.
Nelson Bay is the place for whale watching tours, sunset cruises, and swim with dolphin adventures. It is the largest town in the Port Stephens area, you'll find a huge variety of cafés, restaurants, and boutique shopping, as well as sheltered beaches and bays which are perfect for families with young children.
More than 100 dolphins live in the pristine blue waters of the Port Stephens Marine Park, Dolphin watch cruises depart all year from the busy Marina at Nelson Bay. Whale watch boat tours operate between May and November, when thousands of humpbacks and southern right whales migrate along the NSW North Coast.
An amazing adventure of snorkeling at Fly Point Aquatic Reserve at the end of Nelson Bay beach, and discover an underwater world filled with sponge gardens, soft corals, sea turtles, the occasional seahorse, and a colorful array of fish. You might like more of an adrenaline rush and scuba dive in this area or take a tour and head out to an experience you won't forget.
Hire a bike and cycle the picturesque waterfront, the Bartlett cycleway is 5km one-way from pretty Bagnalls Beach through the heart of Nelson Bay Marina and all the way too Little Beach, near the heritage-listed Nelson Head Lighthouse which was built in 1872. In the lighthouse cottage, there is a delightful cafe with stunning coastal views and great food.
More panoramic vistas will be discovered at Gan Gan hill lookout, you will be amazed at the beauty of the Port Stephens inlet and see the incredible size it is, which is twice the size of Sydney Harbour.
To the east is the magnificent Tomaree National Park and Fingal Bay and to the south are the giant Stockton Bight Sand Dunes, one of Australia's great natural wonders.
Nelson Bay is only 2hrs 30 mins north of Sydney and only 34km from Newcastle Airport. There are various transport options from the Airport to Nelson Bay including car rental, door to door shuttle service and public buses.